Watch out for…
WannaCry ransomware scams
What's the threat?
Scammers are exploiting last month's WannaCry ransomware attack by using fake warnings, websites and apps in order to con people. 
The scams started to appear within a few days of the catastrophic hack that paralysed tens of thousands of computers worldwide, including many used by the NHS. People have reported seeing pop-up messages as they browse the web warning them that they have been infected by WannaCry. If you ring the tech-support number provided in the message, the scammers ask you to grant them remote access to your computer, then 'check' whether you have enough protection on your PC.
After stating confidently that you're at risk, they charge you a hefty amount to install the free tool Windows Malicious Software Removal. According to Action Fraud, the UK's national reporting centre for fraud and cybercrime, one victim was tricked into paying £320.
Scammers have also set up bogus websites, such as securityagainstwannacry.com, containing fake support phone numbers, and sent emails purporting to be from BT and Virgin Media prompting customers to sign in to receive security upgrades.
In addition, Android users should be wary of apps that claim to offer protection from WannaCry. Dozens have been spotted in Google Play (see screenshot), all showing adverts on your phone or tablet once installed, making their developers money. They're all useless because WannaCry doesn't target Android devices. 
What should you do?
Always be sceptical of apps, programs, emails and text messages that offer simplistic solutions to security scares. Fraudsters follow in hackers' footsteps by taking advantage of the fear and uncertainty that surround attacks, particularly those that make headlines worldwide.
Importantly, remember that any genuine error messages and warnings from Microsoft won't include their phone number and will never contact you to offer technical support.
New tools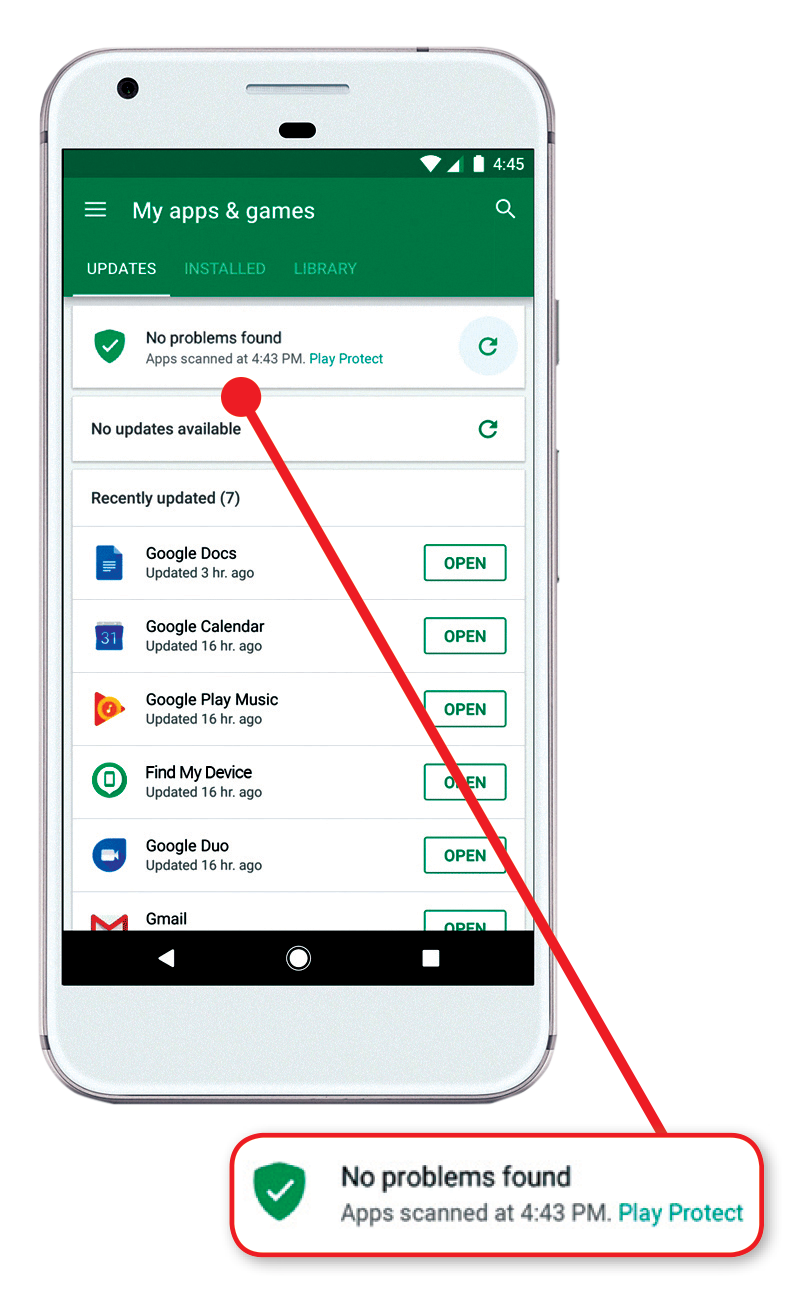 Here's a truly impressive number: Google now scans 50 billion apps every day across users' phone and tablets to keep its Play store free of malware.
This is performed by its new Play Protect tool, which is being added to any Android device that has the Google Play app installed. It runs continuously in the background looking for apps that "step out of line", which is Google's euphemistic way of saying apps that steal your personal data, or infect your device with annoying adverts.
You'll see it scanning at the top of your screen when you have the Google Play app open. It will hopefully give you the all-clear with a green shield and the message 'No problems found' (see screenshot).
Also part of Play Protect is the Find My Device app, which is the new name for Android Device Manager. If you lose your phone or tablet, you can locate it on a map online on a computer. If it's been stolen, you can remotely lock it or erase data from it. Apple users should use Find My iPhone instead: www.snipca.com/24506.  
Google Play Protect www.snipca.com/24484 
ScamWatch
Readers warn readers
Don't click 'PayPal locked' link 
I just received a text message from 07895 647001 telling me that my PayPal account (linked to my quoted mobile number) had been "locked". To restore access I was advised to click this link: http://bit.ly/2qyvt0K. It was obviously a scam to trap the unwary (I checked by logging into my PayPal account, which was of course functioning normally). It didn't have the usual spelling or grammatical errors, so some people will be fooled. I never click random bit.ly addresses because you never know where they will route you to. 
Chris Read
For more ways to protect your tech, try Computeractive magazine.
Get 3 issues for JUST £3!