Watch out for…
Fake charity appeals for tragedies
What's the threat?
Scammers are exploiting the recent tragic events in London and Manchester by tricking people with fake charity appeals. In particular, fraudsters are claiming to be raising money for victims of the Grenfell Tower fire. Posing as official charities and support organisations, they are emailing, texting and phoning people, and posting messages on social-media sites, requesting donations. Some scammers are even pretending to be victims of the fire, and are making direct appeals for money.
Another tactic is to tempt you into clicking a link that promises to show you footage or images of the fire. Scammers often try to seduce people after tragedies and terrorist attacks with 'unseen' or 'sensational' videos and images that TV channels won't show.
Clicking a link in these messages takes you to sites that try to steal your personal data, including your bank details. Downloading an attachment from one of the scam emails installs malware on to your computer. 
What can you do?
Always be suspicious of an appeal for money by phone, text or email, or on social media. There are several legitimate ways to donate money to those affected by the Grenfell fire, including via the Kensington & Chelsea Foundation's page on the charity website JustGiving (www.snipca.com/24728), which had raised over £250,000 within a week of the tragedy. The London Evening Standard is also raising money through JustGiving (www.snipca.com/24731, see screenshot), while the British Red Cross has launched its own fund at www.snipca.com/24730. 
More generally, you can check whether a charity is genuine by searching for it on the Government's Charity Commission website (http://beta.charitycommission.gov.uk), which is currently in beta.
New tools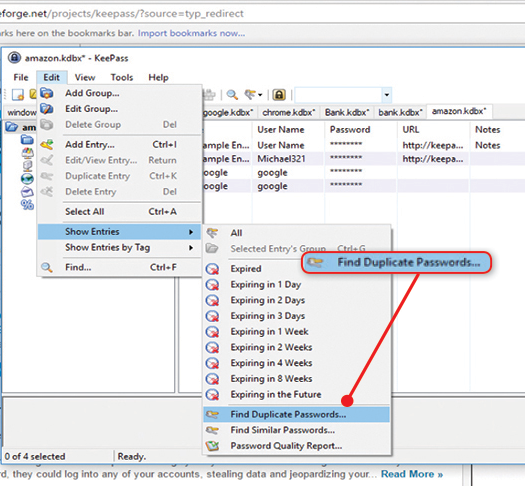 PC security is always a balancing act between safety and convenience. For example, we all know that we shouldn't use the same or similar phrases in our passwords, but it's often hard to think beyond our pet's name or favourite book.
Password managers such as KeePass help, of course. Its new version (2.36) adds the option to search for passwords that are identical or similar. To do this, click Edit along the top, hover your mouse over Show Entries, then click Find Duplicate Passwords or Find Similar Passwords (see screenshot).
Another useful option here is Password Quality Report, which tells you how strong your password is in 'bits' by analysing how hard it is to guess. As KeePass explains at www.snipca.com/24732, only passwords with bits of more than 112 are considered 'strong'.
If you don't already use KeePass, download the new version from the link below. Click either the green installer or portable button under the 'Professional' heading. Despite the name, it's completely free.
KeePass 2.36 http://keepass.info/download.html
ScamWatch
Readers warn readers
Fake 'iPhone testing' offer
I've been seeing lots of fake pages online offering people the chance to test the latest iPhone 8. I know Apple wouldn't open up iPhone 8 testing to the public. The web address always seems to be http://sylvanwins.cricket and the page in question says (using poor grammar), "Your has been selected because we need more beta-testers for the new iPhone 8". This message appears as a pop up, then tells you that you'll get a free iPhone 7 for doing the test. The web page tries to convince you it isn't a joke or a scam. I would recommend you ignore this kind of message.
Joe Mackley
For more ways to protect your tech, try Computeractive magazine.
Get 3 issues for JUST £3!